Perù
In Peru, there are 83 of the 103 microclimates existing on the planet. Thanks to this particularity and its altitudes, Peruvian coffee is one of the most appreciated in the world. In Peru it is possible to go along the "Ruta del café", a road that untangles along the "Selva Alta" and touches all the symbolic places of the country's coffee production.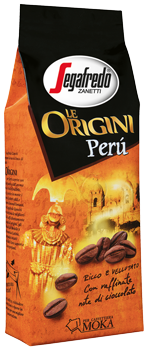 Le Origini - Perù
A variety of coffee, full of flavor and with a velvety mouthfeel, with refined notes of chocolate
The microclimate that characterizes the highlands of Peru is ideal for obtaining a rich and intense aroma, with precious nuances of chocolate enriched with caramel connotations. With a good body, velvety and ripe, it has a delicate aromatic aftertaste.