Concorso Art and Coffee Quiz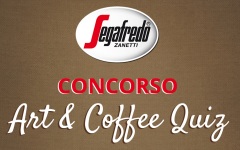 Anche quest'anno, in occasione della mostra "TUTANKHAMON CARAVAGGIO VAN GOGH La sera e i notturni dagli Egizi al Novecento", fino al 2 giugno alla Basilica Palladiana di Vicenza e della quale siamo orgogliosi Main sponsor, parte un concorso speciale sulla nostra pagina Facebook Segafredo Zanetti Italia.

Tutti gli appassionati di arte… e di caffè possono partecipare all'Art and Coffee Quiz, dal 2 febbraio fino al 15 marzo 2015, e vincere tanti fantastici premi!
Per giocare basta collegarsi all'applicazione sulla nostra pagina Facebook, registrarsi e iniziare il quiz, che prevede una serie di 122 domande sul mondo dell'arte e del caffè. Ci sono 20 secondi per rispondere ad ogni domanda, e ad ogni risposta corretta corrisponde un punto. Risposta errata? Si può continuare a giocare, ma al secondo errore il gioco si fermerà per una pausa-penalità, fino alla mezzanotte. Al termine della pausa sarà possibile continuare il gioco senza perdere punti: il punteggio continuerà dal punto in cui si era fermato.
La sfida continua per raggiungere punteggi più alti e scalare la classifica.
Tantissimi i premi in palio: biglietti per la mostra a Vicenza, cataloghi della mostra, CD con le musiche create dal batterista Phil Mer e dal bassista Andrea Lombardini appositamente per la mostra. E inoltre, per i primi classificati una macchina MyEspresso con fornitura di capsule, infusi misti Brodies, un Tripack Le Origini con caffeini. E per il primo assoluto un soggiorno esclusivo in Villa, presso l'hotel 4 stelle Villa Cipriani ad Asolo, Treviso.

Per scaricare il regolamento del concorso clic qui