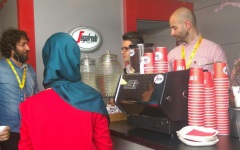 Teheran International Film Festival
Fondato nel 1982, il Fajr International Film Festival (FIFF) di Teheran, arrivato quest'anno alla 34a edizione, è il la più importante manifestazione iraniana nel settore della cinematografia. È un evento che celebra lo scambio culturale, mostra i risultati creativi di cineasti altamente acclamati e rende omaggio a film sia locali che internazionali di alto livello artistico.
Fin dalla sua istituzione, il Fajr International Film Festival ha svolto un ruolo fondamentale nello sviluppo del Cinema iraniano, dove ogni anno sia i nuovi registi che i veterani presentano con dedizione le loro ultime realizzazioni.

Nel corso degli anni molte figure di prestigio hanno collaborato con il Fajr, oltre a farne parte in qualità di giurati: Volker Schlondorff, Krzysztof Zanussi, Robert Chartoff, Semih Kaplanoglu, Bruce Beresford, Percy Adlon, Paul Cox, Shyam Benegal, Bela Tarr, Jan Troell, Helma Sanders-Brahms, Elia Suleiman, Agnieszka Holland, Andrey Zvyagintsev e Rustam Ibragimbekov, solo per citarne alcune tra le più influenti.

Alcuni dei film più indimenticabili e innovativi, realizzati da grandi registi nella loro carriera, sono stati premiati in diverse sezioni del festival: Maborosi No Hikari di Hirokazu Kore-eda, La Promesse di Dardenne Borthers, Clouds Of May di Nuri Bulge Ceylan, 23 di Hans-Christian Schmid, Ressources Humaines di Laurent Cantet, Napola di Dennis Gansel, The Return di Andrey Zvyagintsev, Lives of the others di Florian Henckel Von Donnersmarck e così via.

Durante le diverse edizioni del Fajr, autori di primissimo livello come Costa-Gavras, Francesco Rosi, Theo Angelopoulos, Mario Monicellli, Moustapha Akkad, Darius Khondji, ecc ... sono stati premiati con vari riconoscimenti alla carriera.

In 8 giorni più di 3000 tra ospiti e visitatori hanno gustato uno squisito caffè Segafredo, servito negli stand all'interno della sala cinematografica e nell'area VIP allestita sul tetto dell'edificio.