Thaifex - World of Food Asia 2014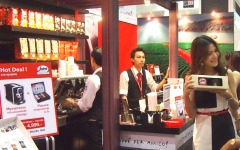 Segafredo Zanetti, rappresentato dal proprio distributore locale Central Food Retail, era presente al Thaifex - World of Food Asia 2014, una delle fiere più importanti del paese per il mercato della ristorazione, che si è tenuta a Bangkok dal 21 al 25 maggio.

Quasi 1.500 industrie leader del settore alimentare e dell'ospitalità sono intervenute al Thaifex segnando un notevole incremento rispetto alle edizioni passate.
Con una piattaforma di business che ha messo in contatto più di 30000 visitatori con espositori di livello mondiale, Thaifex ha offerto una moltitudine di opportunità due individuare potenziali partner commerciali in 16 diversi segmenti cibo e ospitalità.

Nell'elegante stand allestito per l'evento, Central Food Retail ha presentato la gamma di prodotti appartenenti a Segafredo Zanetti e Segafredo Zanetti Coffee System, così come le macchine professionali de La San Marco.