Vandoorne Campione del mondo GP2
There is no translation available.
Stoffel Vandoorne, giovane pilota della scuderia McLaren, si aggiudica il Campionato GP2 2015.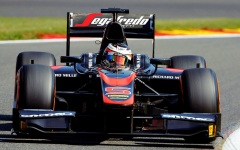 Stoffel Vandoorne, pilota belga della scuderia McLaren che corre per il Team Art Gran Prix nel campionato GP2, si è aggiudicato il titolo mondiale 2015.
Vandoorne è considerato da McLaren uno dei piloti del futuro, che potrebbe gareggiare nel campionato di Formula 1 già a partire dalla prossima stagione.
La McLaren sta lavorando duro per ritornare a vincere in Formula 1, in cui è seconda solo a Ferrari in quanto a GP vinti e titoli mondiali.
E anche se quest'anno i risultati non sono certo soddisfacenti, la squadra mantiene comunque altissimo l'impegno nel settore delle corse automobilistiche facendo gareggiare, come in questo caso, i migliori piloti negli altri campionati.
Congratulazioni quindi a Stoffel Vandoorne, del quale riportiamo il testo in originale della sua dichiarazione da neo-campione:
"Becoming the new GP2 Series World Champions means everything to me and I couldn't have done it without your support.
I'd like to thank everyone in the Segafredo family, particularly Mr. Massimo Zanetti himself, for their continued belief in me and hope we can go on to achieve more together".